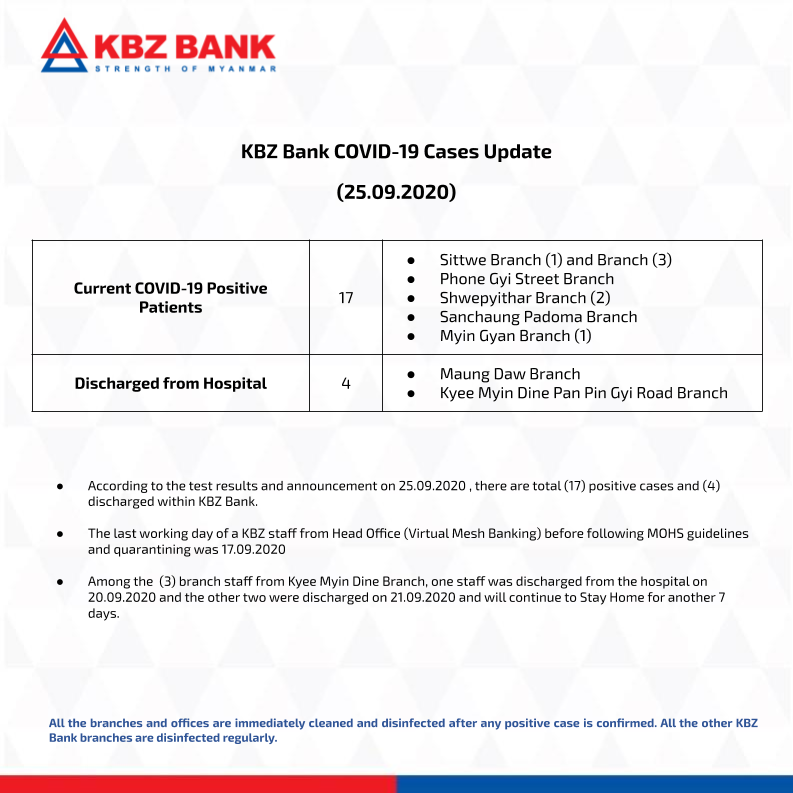 For more information, please check https://www.mohs.gov.mm/ or call MOHS Call Center Number 2019.
Dear Valued KBZ Bank Customer,
In view of the Novel Coronavirus (COVID-19) situation worldwide, our branches are currently operating within normal hours but with precautionary measures in line with the Ministry of Health and Sports (MOHS) guidelines put in place to ensure your health and safety when you visit us.
Workplace Measures
Formed an internal COVID-19 task force to closely monitor the situation and take initiatives for the fight against COVID-19
Implemented workplace arrangements such as Work-from Home, split and segregated shifts, remote working, and paid leave for employees who fall under the special/vulnerable population for COVID-19 by World Health Organization (employees aged 60 and above, pregnant staff, employees with severe chronic medical conditions, employees who have compromised immunity and new mothers)
Established travel restrictions and advisory to bank employees to limit movement and protect their families
Introduced an internal health tracker application for employees to submit their health information on a daily basis
Arranged and conducted COVID-19 knowledge and Mental Resilience webinars for all staff, making eLearning and mandatory online examination on COVID-19 knowledge part of every staff's KPI
Preventative Measures
Distributed protective equipment (face masks, gloves and hand sanitizers) among customer-facing and cash-handling staff
Required both costumes and employees to wear a mask (cloth mask) to enter the branch or office
Introduced temperature screening, hand wash stations and educational posters for proper hygiene across all our branches and offices for everyone entering the premise
Established 3-to-6 feet social distancing measures and good air ventilation in all branches and offices
Increased the frequency of cleaning and disinfecting: life buttons, ATMs, door handles, banisters, bank counters, and monitoring of supply of soap, sanitary items, disinfectant, and hand-washing gel at all office locations and branches
Advising customers to choose digital banking services (KBZPay, ATM, iBanking and mBanking) for a safely-distanced banking experience
To know more about KBZ Bank Branches 'Opening and Closing' status
For more information please visit:
For any further inquiries, please contact our customer service available 24/7 Monday to Sunday via:
KBZ Bank Call Center | 09-951018555
KBZPay Call Center | 09-969963211
Email | customer_service@kbzbank.com
Thank you for banking with KBZ Bank.