COVID-19 preventative measures that customers must follow before entering the branches (or) Health Advisory
Dear Valued KBZ Bank Customer,
In view of the Novel Coronavirus (COVID-19) situation worldwide, our branches are currently operating within normal hours but with precautionary measures in line with the Ministry of Health and Sports (MOHS) guidelines put in place to ensure your health and safety when you visit us.
What can you expect when you visit a KBZ Bank branch?
How can you avoid visiting our branches but still use our services?
Branch Closures
As Kanbawza Bank prioritizes the wellbeing and safety of its employees, partners and customers, operations at some of the branches in Yangon Region were temporarily suspended to implement preventive measures for COVID-19 and to carry out regular bank security maintenance. During the temporary suspension, the banks' premises were thoroughly cleaned and disinfected. The branch security system was also upgraded during that time.
In order to prevent further setbacks in the country's development, MOHS announced in December encouraging the economic, social, and health sectors to continue operation with caution while practicing the new normal. Accordingly, KBZ Bank will resume operation of 122 Yangon branches to continue providing customers with essential banking services during normal banking hours (9:30am to 3:00pm), starting 14 January 2021.
KBZ Bank branches across the country are operating within normal business hours.
Customers are encouraged to wash their hands before entering the bank, wear face shield, and mask as per the instructions from the Ministry of Health and Sports.
Please check below to find out the branch closures and the branches that will stay open in Yangon region.
To know more about KBZ Bank Branches 'Opening and Closing' status
KBZ Bank COVID Cases Update
As the number of infected COVID-19 patients increases throughout the country, we are continuing to do our best to keep our customers updated in regards to the COVID cases within KBZ Bank in a timely manner.
Please check below for KBZ Bank COVID-19 Cases Update.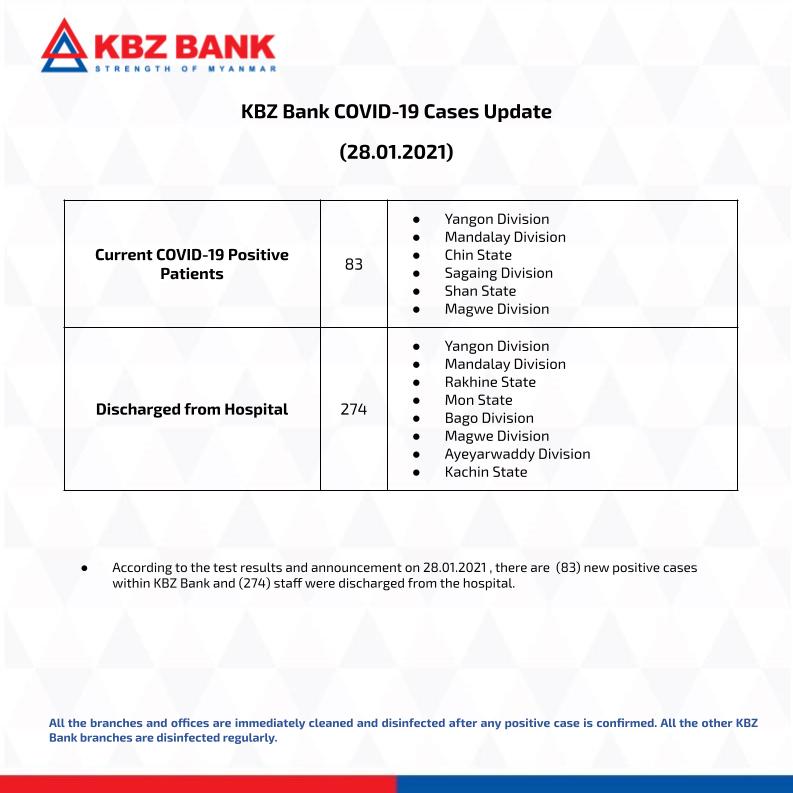 For more information please visit:
For any further inquiries, please contact our customer service available 24/7 Monday to Sunday via:
KBZ Bank Call Center | 09-951018555
KBZPay Call Center | 09-969963211
Email | [email protected]
Thank you for banking with KBZ Bank.