Our Vision:
■ To be the best-managed bank in the world
Our Purpose:
■ To improve the quality of life in Myanmar through banking
Our Mission:
■ 100% Financial Inclusion in Myanmar
■ Service Leadership in ASEAN by 2024
To achieve this, since 2017 we have undergone the most radical and ambitious transformation in our history, using international best practices as a guide. At the heart of our transformation is the adoption of new technologies and new approaches to leadership. As the country's largest bank, we are strengthening the Myanmar of today, and laying the foundations for the Myanmar of tomorrow.
Our purpose is to improve the quality of life in Myanmar by increasing access to financial products and services, thereby giving communities and businesses access to opportunities and a better quality of life.
We are committed to bringing exceptional banking services and unrivaled customer experience to all people in Myanmar, backed by strong expertise and infrastructure.
By constantly pushing ourselves to the highest of standards, we will grow the bank into the region's leading customer-centric financial services provider.
* Regular reviews of both our vision and mission are conducted by our Board to ensure they remain timely and relevant, and that our products and services continually drive towards them. Our most recent review was done in 2020.
Core Values
At the heart of KBZ Bank is a commitment that runs through the entire organisation: being good to people and doing the right thing. It is this commitment that defines and differentiates us.
Underpinning this culture are three values: Metta, Thet Ti, and Virya — loving-kindness, courage and perseverance. These values permeate every level of the organisation, from our CEO to our tellers, and guide every interaction with our customers and partners. They allow us to work with intention, and have a profound impact on communities and lives.
As change agents of Myanmar, we embrace and perpetuate the values we need to succeed as a nation.
Our Businesses
KBZ Bank has two core business segments:
Our Business Model: How We Create Value
KBZ Bank aims to be the world's best managed bank and to achieve 100% financial inclusion for the people of Myanmar. Three years of transformation and reform have positioned us well to achieve these aims
Today, our business model is designed to capitalise on Myanmar's increasingly educated population, its young workforce, an accelerated rate of digital adoption, and the entrepreneurial and innovative spirit of its communities, while bringing tangible value to Myanmar's economy that benefits its communities.
Our Strategy
To create the financial connections that open the doors to opportunities and a better quality of life, we will continue expanding connectivity in Myanmar through mobile platforms and make financial services simple, secure, and part of everyday life.
Internally, we are focused on improving governance and redeploying assets to unlock growth as part of an overall goal to transform ourselves into a world-class bank in a digital-led world.
Our strategy is anchored on three key capabilities:
Mesh Banking
Mobile-first technology and data
Strong governance and management
Our strategy and the capabilities that it is anchored on are continuously monitored and reviewed by our Board of Directors, and adjusted to account for any changes in the macro environment as well as the value brought to the Bank's stakeholders.
With more than 500 branches, we have the reach and ability to take financial services beyond our physical branches. As such, we have adopted a territory-led banking model, and redeployed these assets to drive financial inclusion, with a mobile-first customer at its core. The elements of this strategy include:
A hyper-local, territory-led banking model to map resources and target communities across the country.
A focus on financial inclusion, where we have equipped more than 500 teams across the country with the tools and training necessary to take banking services beyond our branch doors to the consumers and SMEs in their communities.
A seamless customer experience that reduces both onboarding time for customers and waiting time for services and transactions.
A digital- and data-led model where data from services and cutting-edge technology – utilizing facial recognition, for example – are used to improve and innovate services.
Leveraging all customer touchpoints including mobile applications, branches, agents, and merchant networks.
Effective and efficient cash handling by creating new models of cash management in a cash-heavy society, including delivery and withdrawal counters.
Growing internet penetration, rapid digital adoption and increased access to mobile technology, particularly among a young population primed to adopt mobile-first lifestyles, have provided fertile ground for deepening financial inclusion in Myanmar.
To leverage this, KBZ side-stepped traditional technology completely and built our mobile wallet KBZPay on a dedicated digital infrastructure, enabling greater flexibility for new mobile-first innovations at scale.
Today, KBZPay powers nearly 300,000 Myanmar businesses and the daily transactions and payments of 5 million consumers on this secure and trusted payments network. The reach and data from this network have enabled us to further develop and deliver meaningful digital services and will also fuel the expansion of the network into wider e-commerce ecosystems, transforming KBZPay into a platform model.
We believe this shift will, in turn, encourage more connectivity and digitisation of businesses across Myanmar, bringing microentrepreneurs online, connecting startups to a wider base of customers, and enabling enterprises to go mobile-first.
To further improve efficiency and move closer to our goal of becoming the world's best managed bank, we have institutionalised substantial changes to how the bank is governed and run.
Performance management at KBZ is based on a value centre model, with meritocracy and performance at its core. Each value centre is lean and horizontally-structured, and accountable for generating revenue across business units. This has brought the Bank's best performers to the forefront to lead the next chapter of our growth. Precise job descriptions for all positions and performance management programmes, meanwhile, tie our growth to our employees' personal and professional growth.
Improvements in Risk management and credit risk evaluation have bolstered due diligence as well as our decision-making capacity on credit approvals and financial reporting. At the same time, the implementation of Oracle Financial Services Anti-Money Laundering (OFSAA), a globally-renowned, industry-grade AML/KYC tool recognised by FATF as best-in-class, has significantly boosted our ability to counter financial crime.
By introducing new Target Operating Models (TOMs) with best-in-class practices for each department, KBZ has laid the foundation for a professionally managed business while creating an organisational framework that strengthens our performance, management and compliance in line with the best practices of large regional banks.
Well positioned
Our ambitious aims and strategy are backed by a proud history stretching back a quarter of a century and a brand that is both recognised and trusted. We have played a central role in Myanmar's development, having financed some of our country's largest infrastructural development projects. We are also an employer of an 18,000-strong workforce, which we are shaping into the next generation of talent and leaders. We boast the widest network of branches and ATMs in the country, making us a compelling bank of choice for all in Myanmar. Our deep capital and insights from our digital network of customers and businesses position us to move decisively into the future.
What differentiates us
Our work culture is guided by a belief and commitment that runs through the entire organisation: being good to people and doing the right thing. It is this commitment that defines every transaction and interaction we have with our customers, our partners, and our communities. Underpinning this culture are our three values: Metta, Thet Ti, and Virya – loving kindness, courage, and perseverance.
Metta is reflected in everything from the speed of our service at our branches, to the reliability of our cash machines and digital platforms. We serve our customers and communities with loving-kindness, and are willing to go the extra mile for them.
Thet Ti is seen in the way we boldly take on challenges, even when they are difficult or ambitious, for instance, keeping our branches running and providing essential financial services during Covid-19.
Virya is visible resilience in the face of volatility and uncertainty, and our determination to keep our economy steady and Myanmar strong.
By applying these values in everything we do, we can have a profound and positive impact on communities and the lives of people.
Tracking our progress
The rapid growth of financial inclusion through KBZPay
Within two years of its launch, KBZPay has grown to nearly 350,000 merchants and agents across the country, and facilitated over MMK 74 trillion transaction value since inception in Oct, 2018. KBZPay reached 10 million downloads in less than 4 years (as of Aug 2022) , which is over 26% of the adult population in Myanmar, one-fifth of the total population, and 100% of Myanmar banking market.
Hundreds of thousands are in the formal financial system for the first time, and thousands more are being brought in each day. Our aim is to serve 30 million KBZPay customers within the next decade. Our next target is to achieve 12 million users by 2024.
Successful transformation of KBZ's management, governance, and risk
We have made significant strides towards our goal of becoming the world's best managed bank. In the last eight consecutive quarters, all KBZ staff have hit the performance targets set for bank-wide team challenges. In the last two years, we have also implemented 60% of our interim Target Operating Models across the bank. We have also reformed our Credit Committee, so our new Management Credit Committee shall be independent of our shareholders. Meanwhile, our anti-money laundering measures have translated into a more comprehensive and accountable approach across the Bank, resulting in a more than fifteen-fold increase in active reports on suspicious transactions in the first half of 2020, as compared to the whole of 2019.
For Myanmar, by Myanmar
KBZ Bank believes that development has to be both sustainable and equitable, and at a pace that is right for our country, our communities, and our people. We are built for Myanmar, by Myanmar.
This is why we build products and services that benefit the wider community, not just the wealthy, and contribute to nation-building by working tirelessly to strengthen communities and institutions for the long-term.
From gender equality, disaster relief and SME enablement, to establishing our own corporate charitable and philanthropic platforms, good corporate governance is in our DNA and we strive to lead by example. We also believe in extending the right kind of help that will support Myanmar's development and, in December 2019, established three Social Purpose Pillars that guide our CSR activities: climate change mitigation through education, talent development for the future of Myanmar, and building an inclusive society and workplace.
Organisational Chart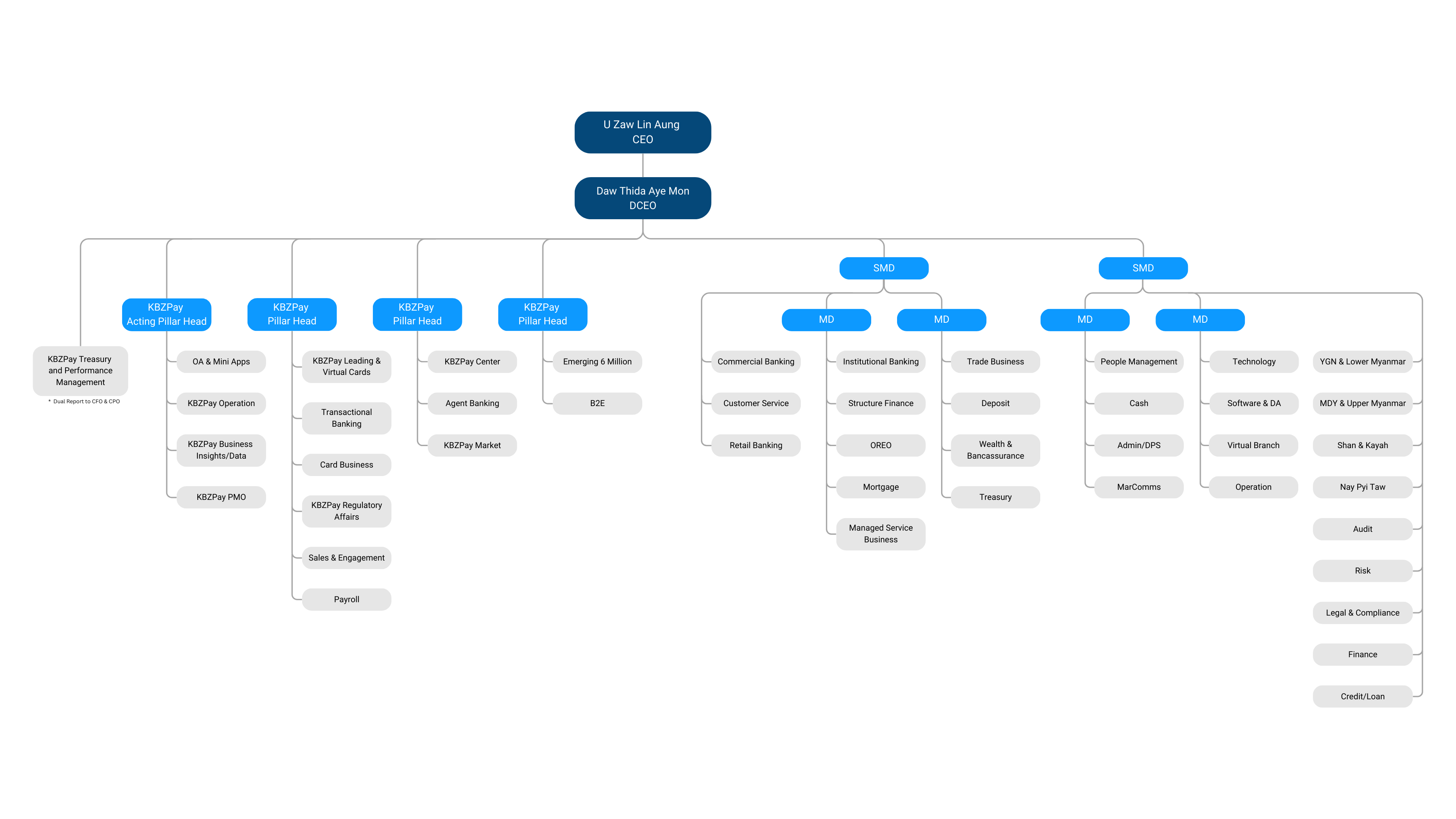 KBZ Bank Management Structure as at October 2023
Our Transformation
In 2017, KBZ Bank embarked on an ambitious transformational journey that would touch every aspect of our operations.
Our goal is to be a global best-in-class bank offering digital, mobile-first banking, and top-notch financial services to the people of Myanmar within the next decade.
In the last three years, we have made substantial changes – and taken substantial strides forward – in the way we manage and run our business operations, approach risk, and communicate and collaborate with our stakeholders, from local authorities and regulators such as the Central Bank, to our employees.
Some of what we have achieved include:
A new generation of leaders: This includes a revitalized Board of Directors and C-suite, Our Board of Directors includes an Independent Chairman and Independent Directors, ensuring more accountability and better representation of stakeholder interests. We have also appointed best-in-class professionals as heads of departments. We aim to be a "talent factory" to train new local leaders for the future of banking.
An enhanced organisational structure: Besides a clear delineation of responsibilities, we have increased performance reviews as well as awarding bonuses to enhance accountability and responsibility throughout the bank and to incentivise staff to meet the highest professional standards.
A rigorous risk management approach: With a new and independent Management Credit Committee and Board Credit Committee, credit approval is centralized and transparent; a new Board Audit & Risk Committee, meanwhile, strengthens governance and asset liability management. We now utilize the Oracle Financial Services Analytical Applications (OFSAA) to counter money laundering and other financial crimes.
Greater transparency and accountability: Our new suite of loan and security documentation have been updated to meet international standards. The details, accuracy and timeliness of reports to the Central Bank of Myanmar have also been enhanced.
To meet the expectations of being a leading global financial institution, target operating models for each department form a cornerstone of our efforts and create an organisational framework to strengthen our performance and management and compliance in line with the best practices of large regional banks.
In 2020, we were honoured to recognised amongst the top 10 most well-governed and transparent companies in Myanmar (out of 260 companies), ranking 7th for the 2020 Pwint Thit Sa/ Transparency in Myanmar Enterprises (TiME) assessment, with us securing the the second highest score for Corporate Governance disclosure.
A better workplace for all: To demonstrate our commitment to disability inclusion at KBZ Bank, we are honoured to be a part of a global disability inclusion campaign by The Valuable 500 — a global CEO community revolutionising disability inclusion through business leadership and opportunity.
Beyond the changes within our walls, KBZ Bank has continued to push for financial inclusion for all people of Myanmar,and to drive Myanmar's growth ambitions by raising both digital and financial literacy.
In October 2018, we launched our real-time e-wallet platform, KBZPay, which makes purchasing everyday products and managing funds more convenient and secure. KBZPay is being rapidly adopted, and to date, has attracted more than four million users who are now enjoying a new way of paying for goods and storing cash.
Our transformation journey continues. And with each bold step, we are strengthening the Myanmar of today and laying the foundations for the Myanmar of tomorrow.
KBZ Bank: The march towards mobile-first
Given that some 90 percent of Myanmar's population remains unbanked, growing financial inclusion in the country has been a key priority for KBZ Bank.
To do this, we launched KBZPay in August 2018, our mobile-first approach to create both the technological infrastructure and easy-to-use interfaces that bring banking beyond our branches. KBZPay has become Myanmar's leading mobile wallet, through which people can make purchases and manage funds. Following what was the largest-ever digital onboarding initiative in Myanmar's history, resulting in first-time access to financial services for many, over 10 million customers and 290,000 merchants are now on KBZPay (as of August 2020).
KBZPay has made a real difference to people's lives, putting once complex fund transfers which could only be conducted at a branch into the hands of every Myanmar adult with a smartphone.