Which card is right for you?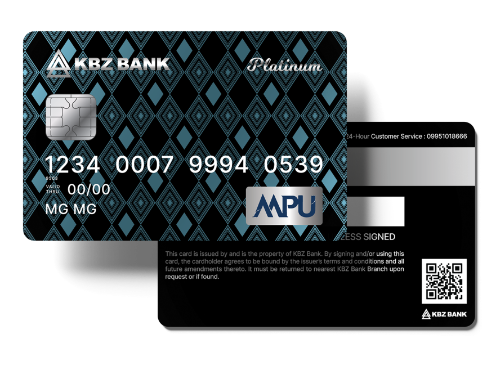 MPU Credit Card
The MPU Credit Card is the most sophisticated and simple to use anywhere in the country that is connected to MPU. Since MPU Credit Card allows customers to effortlessly make transactions, it is very practical for online/offline payment, shopping, and dining at restaurants.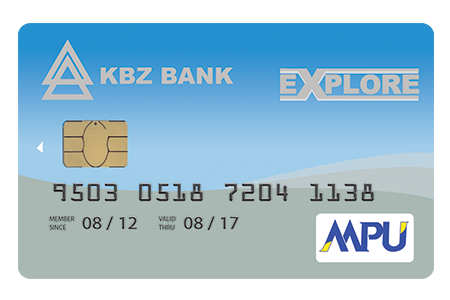 Explore Debit Card
With our Explore Debit Card, you can make payments online, at mini marts, shopping centers and restaurants without the hassle of carrying cash all the time.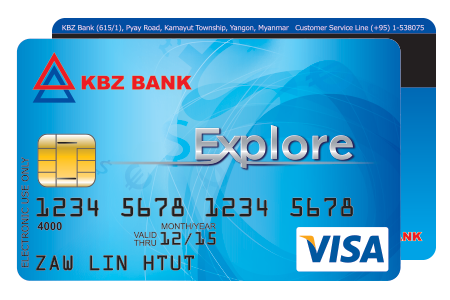 Pre-paid Card
KBZ EXPLORE Prepaid Card is available in both VISA & MasterCard. KBZ Explore Prepaid Cards is suitable for travelers to foreign countries, students going abroad for further studies and those who want to make online payments.
This prepaid card is accepted worldwide, including online merchants and ATMs. You can easily check your card transactions and balance by logging into your KBZ online account. Apply for an instant prepaid card at any KBZ Branch.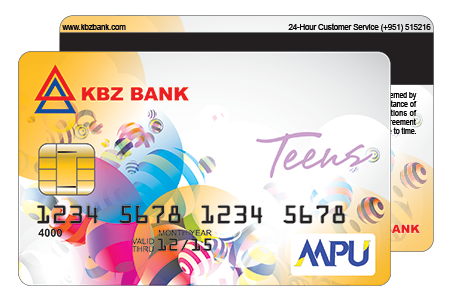 Teens Card
Our Teens Card is perfect for teens under 18 years of age, and particularly students. This card allows young customers to make payments at online stores, mini marts, shopping centers and restaurants without the inconvenience of carrying cash around all the time.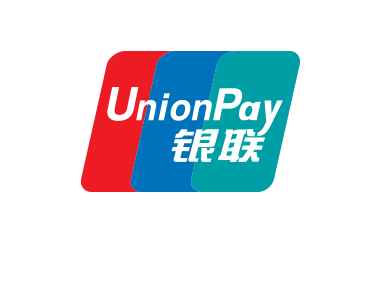 KBZ UnionPay Credit Card
UnionPay International (UPI) (previously known as China UnionPay [CUP]) is a leading payment card brand similar to other International card brands such as Visa, MasterCard and American Express. The UnionPay card is increasingly becoming one of the most important credit cards in Asia. The UnionPay merchant acceptance network extends to over 160 countries and at over 7,000 merchant acceptance in Myanmar.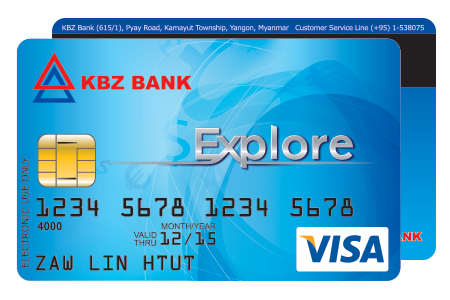 KBZ VISA Credit Card
KBZ Visa credit card is a kind of unsecured personal loan provided through a "plastic card" which can be used for payment of goods & services or cash withdrawal.
There are two (2) types of Visa credit card issued by KBZ bank i.e Platinum & Classic cards with PayWave function. KBZ Visa payWave is a contactless method of payment – the latest evolution in Visa payments. It is simple, secure and quick payment method. The technology enables cardholders to 'tap' their card on a contactless POS terminal to make transactions up to the amount set by merchant's acquiring bank, rather than 'swiping or dipping' their card into POS terminals. The cards have a tiny antenna embedded into the chip which securely transmits payment instructions to and from a specially adapted card terminal.
Call us now
and speak to one of our advisors

(+959) 951018555
Apply in Branch
Find your nearest KBZ branch and come and talk to one of our advisors in person