Dear KBZPay Customers, Your Smartphone is Now Your Mobile Wallet and ATM Card
KBZPay is the first mobile wallet in Myanmar to offer customers the option of instant cash withdrawal at any of KBZ Bank's 1,500 ATMs nationwide.

Yangon, Myanmar, 26 June 2019 – An exciting new functionality of the KBZPay mobile wallet has been launched by KBZ Bank to allow customers to tap their way towards instant cash withdrawals from any of the bank's 1,500 ATMs across the country. KBZ Bank is the first in Myanmar to link its mobile wallet to instant physical cash access, expelling the notion that only those with bank accounts can withdraw money from ATMs.

With the demand for cash still high in the country, KBZPay's two million customers have options to cash out at KBZ Bank branches or at KBZPay agents, however, these are only open for limited hours. The KBZPay ATM Cash Out service enhances the user experience and provides added convenience as ATMs are accessible at any time every day, including on public holidays. Mike DeNoma, Chief Executive Officer, KBZ Bank says, "ATMs have traditionally required bank accounts and plastic cards. In the spirit of championing financial inclusion and banking beyond the branch, we have adopted technology to make it possible for KBZPay customers to withdraw cash at ATMs without the need for either item. We believe KBZPay has ever-expanding value and utility in today's world and that cardless no longer means cashless. We are continually developing new KBZPay features for customers, many of whom we believe will only carry their phone instead of a physical wallet in the near future."

Serving as both a mobile wallet and an ATM card, KBZPay saves the day when customers do not have their physical wallet or a debit card in hand and cash is urgently needed. KBZPay customers can also choose to store money in their mobile wallets and be reliant on it for day-to-day transactions and cash withdrawals. ATM Cash Out is the latest in the list of functions such as mobile top-up, data pack purchases, P2P transfers, merchant transactions and bill payments that KBZPay offers to support the growing digital-first lifestyles of people.
During ordinary ATM transactions, the customer's identity is established using an ATM PIN and the data stored in the ATM card's magnetic stripe. With KBZPay ATM Cash Out, the mobile phone takes on that task with numerical codes generated by the KBZPay app. KBZPay ATM Cash Out only requires a few simple steps:
How KBZPay ATM Cash Out Works
1) Select the 'Cash Out' option on the KBZPay main interface
2) Use the 'Find Nearby ATM' function in the KBZPay app and head to the nearest ATM (if already at
the ATM, proceed to the next step)
3) Upon arrival at the ATM, press 'Request Code' in the KBZPay app and enter your account PIN
4) After keying in your KBZPay account PIN, the app will generate two PIN codes, a 6-digit code and
a 4-digit code
5) Select 'KBZPay Cash out' on the ATM screen and enter the two PIN codes
6) Enter the withdrawal amount and tap on 'Confirm' for the cash to be disbursed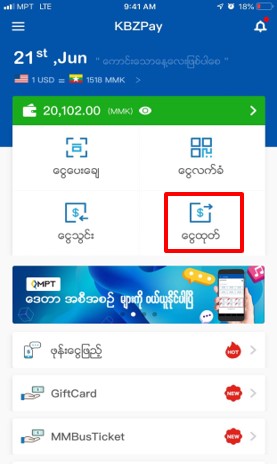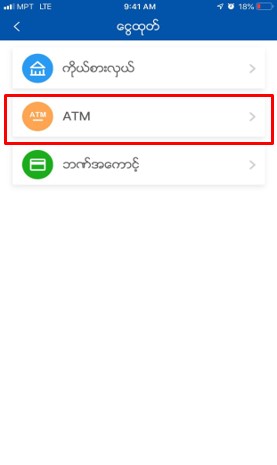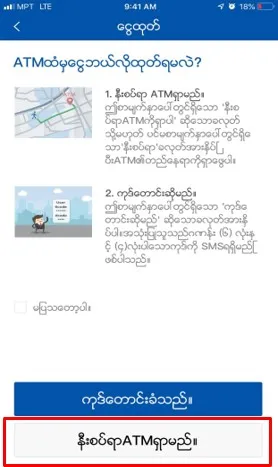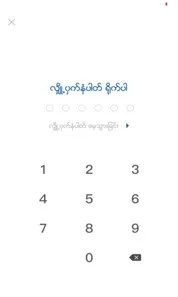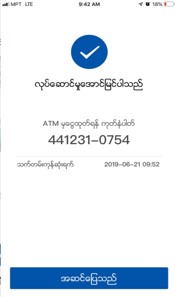 Should the ATM detect a pre-determined number of invalid PIN code attempts, the transaction will be automatically voided. The KBZPay Cash Out will be free of charge during the initial launch phase. An additional transaction fee will be introduced for customers who wish to withdraw large amounts each month.
Safe and Secure Transactions with KBZPay
As security features such as fingerprint access and passcodes are built in to the customer's smartphone and KBZPay mobile wallet, customers can withdraw cash from the ATM with confidence. However, KBZ Bank encourages customers to have more than one layer of security on their mobile phones in case it is lost or stolen. This could be a second password or a fingerprint lock, or both.
Signing Up for KBZPay
Anyone with a smartphone using mobile numbers from MPT, Telenor, Ooredoo, and MyTel can register for KBZPay free-of-charge, regardless if the person has a bank account. First, the KBZPay app should be downloaded on Google Play Store, Apple App Store or at www.kbzpay.com.

To access basic KBZPay services, customers will need to create an account which takes two minutes. General information such as birth date, NRC and mobile number is required, followed by creation of an account password.

In order to access the full suite of KBZPay services such as "cash in" and "cash out", customers are advised to visit their nearest KBZ Bank branch or agent to verify their NRC and complete the onboarding process. All members of the KBZ Bank employee teams are able to upgrade users from Level 1 to Level 2, anywhere, any time. Customers also have the option to link their KBZ Bank account with the KBZPay app to top up funds in their mobile wallet.

Persons interested to become a KBZPay authorised agent or partner can contact the KBZ Bank team at +95 99 6996 3211 or [email protected].

For more information about KBZPay, please visit https://www.kbzpay.com.