The Third Wave of COVID-19 in Myanmar
The Third Wave of COVID-19 in Myanmar
Reflections on KBZ Bank's COVID-19 Relief Efforts from 2021-2022
Executive Summary
The third wave of COVID-19 has imposed challenges to the communities in Myanmar, alongside the ongoing socio-economic circumstances. As one of the largest financial institutions in the country, KBZ Bank has sought ways to support the people of Myanmar and the employees through extensive COVID-19 response initiatives and measures.
Firstly, as a financial institution, KBZ Bank is prioritizing cash deployment for suppliers of essential medical equipment and introducing contactless ways of providing financial services to the people. The approach ensures that financial resources are channeled effectively towards securing medical resources and providing essential medical care for those affected by COVID-19, while instituting a financial system that can mitigate COVID-19 risks and protect the livelihoods of local communities.
Secondly, as an employer to the people of Myanmar, the bank is instituting COVID-19 care and response policies to protect our employees from potential risks, as well as offering telemedicine and insurance support so anyone can seek necessary medical attention. These initiatives ensure that our employees, who are dedicated to providing essential financial services in Myanmar despite the ongoing COVID-19 risks, and their physical and psychological well-being are well-protected.
Lastly, as a private business in Myanmar, the bank is building a network of trusted partners, who can ensure that our contributions for COVID-19 response are delivered to the intended audiences in a streamlined manner. The new giving approach helps us stay focused and be prompt with our resource deployment, while upholding our governance and due diligence standards.
KBZ Bank will continue to uphold our responsibility as an essential financial service provider, the largest employer, and a business established for Myanmar, by Myanmar, and we remain dedicated to supporting the people of Myanmar through the challenges arising from the Third Wave of COVID-19.
As one of the largest financial institutions in Myanmar, KBZ Bank has taken proactive measures to mitigate the risks of COVID-19 to our employees and the communities we serve. Particularly, as an essential financial services provider, it was critical that we continue to provide financial services so that families can buy medication, food and other necessities in a safer environment.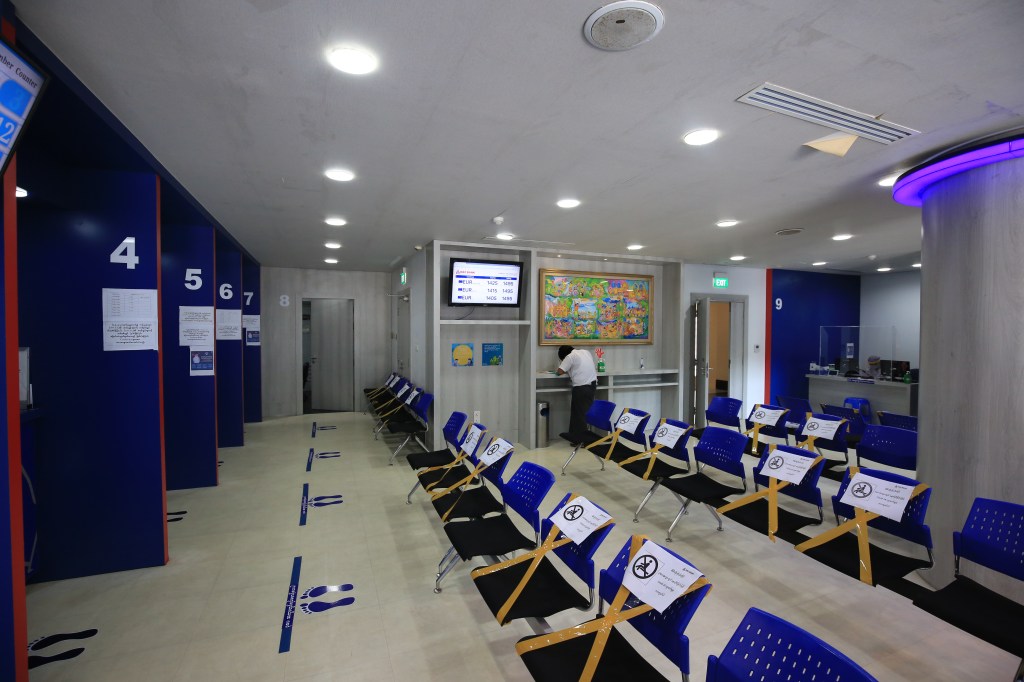 This report outlines the efforts KBZ Bank has made to address the diverse challenges imposed by COVID-19, including instituting necessary sanitation and safeguards at all customer touch points; ensuring employee wellness and access to healthcare benefits; and providing community support through corporate citizenship programs.
Financial Initiatives and Policies
The onset of currency circulation issues, persisting from the first quarter of 2021, has posed significant constraints to the domestic economy and impacted the livelihoods of many. Cash withdrawals were difficult and the shortage of foreign currencies, such as the U.S. dollar, has restricted financial activities and Myanmar's connectedness to the international economy. At the same time, the shortages affected people's ability to take appropriate steps to protect themselves and their families from COVID-19, aggravating the impact of the pandemic on the population.
To respond, KBZ Bank and the banking sector took actions that financial players can do in order to alleviate the difficulties faced by Myanmar. For instance, KBZ Bank started prioritizing cash and foreign currency provision for importers of oxygen and emergency medical supplies. Additionally, the bank remained operational for foreign remittances even during holidays, such as the long public holiday from 17th to 27th July, 2021, to ensure that essential transactions could take place to move the economy and the nation ahead from its battle against COVID-19.
Another approach to building a resilient economy in the face of COVID-19 was to accelerate and promote the usage of digital financial services and payments. This would allow people to buy essential goods and medical supplies while alleviating the stress of queuing at ATMs for cash withdrawal and increased risk of exposure to COVID-19. While there were existing means of digital payments and financial services, i.e. KBZPay and digital banking apps, the drive had to ensure that people can access the essential services with digital payments — onboarding merchants and suppliers. To enhance the acceptance of digital payments, the bank has worked with various suppliers and merchants to work out arrangements for using digital payments, instead of relying on physical cash. As of December 2021, KBZPay has 342,268 merchants and agents on the platform.
Employee Wellness
While the adoption of digital financial services is on the rise, the people of Myanmar are still reliant on human-to-human interaction when managing financial transactions and services. That is why it was critical for the bank to protect its 12,000 employees, particularly those stationed at the 500 branches across the country, so that they can continue to provide essential financial services to those in need.
In response to the third wave of COVID-19, the bank reinstated first-and-second-wave HR policies as a rapid response. The Work From Home policy was reintroduced on 16th July for employees, who are eligible to work from home such as the back office staff and staff with underlying medical conditions, etc. For branches, where staff will need to be on-site for service provision, the bank resumed its COVID-19 protection measures, such as frequent sanitation of branch facilities, rotation system for staff and provision of protective equipment to minimize the risk of exposure to the virus. It also reactivated the COVID-19 Leave Policy on 16th July to allow employees to take extended paid leaves as a result of positive diagnoses of COVID-19 or employees who would need to provide care for children under the age of 10, whose schools might be closed due to COVID-19.
Figure 2. Entitlement of employees under Medical Insurance

Outpatient: A patient who is not hospitalized overnight but who visits a hospital, clinic, or associated facility for diagnosis or treatment.

Employees are entitled to get: Up to MMK 7,500 per visit (1 visit per quarter) subject to a maximum of MMK 30,000 per person per year.

Inpatient: is someone who stays in a hospital while they receive their treatment​.

Employees are entitled to get:
■ Hospital Room rent which is sub-limited up to MMK 30,000 per day.
■ Maximum amount that can be claimed in one treatment is limited to MMK 1,200,000.
■ Annual limit is MMK 4,800,000 per person per year.

In addition to the existing COVID-19 protection measures, the bank started implementing new initiatives to enhance employee wellbeing. One of the key initiatives under employee wellness is MyMedicine, a telemedicine service that offers over-the-telephone delivery of healthcare services, including exams and consultations. Consultations around the following areas are available on MyMedicine:
General Consultation
Consultation with Specialists
COVID-19 assessment
Interpretation of lab test results
Medication refill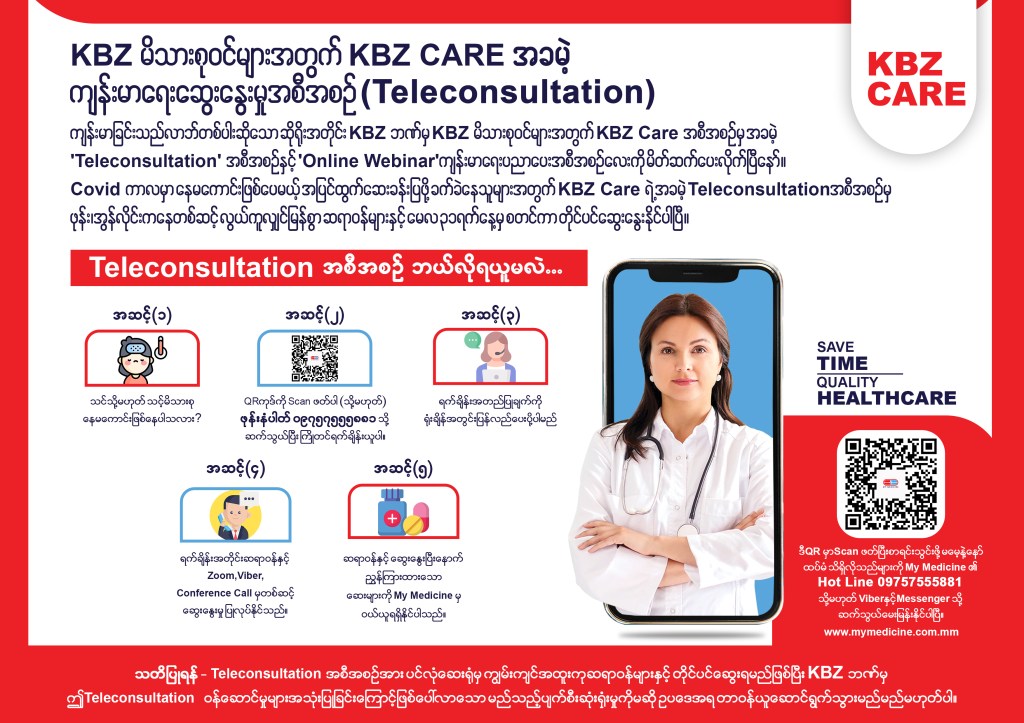 Beyond remote health care services provision, the bank has vaccinated 97% of its employees with Sinopharm vaccines acquired through the Chineses Chamber of Commerce and Pun Hlaing Hospital. The bank also provided 50 to 100 Oxygen Cylinders for employees, their families, and the communities we operate in as well as care packages for 100% of staff. The care packages include probiotics, vitamin c + zinc, an electrolyte supplement, biogesic, and zecuf lozenges. Masks, hand sanitizers and disinfectant sprays have also been provided to branches and corporate offices.
Lastly, the bank offers webinars to employees on various COVID-19 related topics, including nutrition and immunity, response and recovery of COVID third wave in Myanmar, and co-existing with COVID in the new normal. Conducted over four sessions to date, the webinars are led by health professionals from Pin Lon and Pun Hlaing hospitals to enhance understanding and knowledge around COVID-19 response and prevention.
Social Purpose and Community Engagement
In 2020, KBZ Bank's COVID-19 response for the communities in Myanmar was led by the Social Purpose and Impact Partnership ("SPIP") Committee, an independent committee which oversees the bank's CSR initiatives. As COVID-19 hit Myanmar, the SPIP Committee redeployed its focus and resources toward relief efforts. Contributing more than MMK 4.8 billion (3.4 million USD approx.) towards vulnerable communities, healthcare infrastructure, medical equipment, food, and other forms of aid throughout the country.
In Q4 2020, the SPIP Committee established the COVID-19 Subcommittee to form a dedicated committee managing COVID-19 emergency requests, conducting rapid response evaluation and deploying pre-allocated funds agreed upon by the board. However, with the third wave of COVID-19 in 2021, the COVID-19 Subcommittee ("Subcommittee") took a drastic change in its approach to giving, by re-establishing its framework for COVID-19 rapid response. The Subcommittee now focuses on a pre-vetted network of partners to streamline COVID-19 efforts and deliver impact.
Figure 4. COVID-19 Subcommittee Rapid Response Framework Transition (Second Wave – Third Wave Comparison)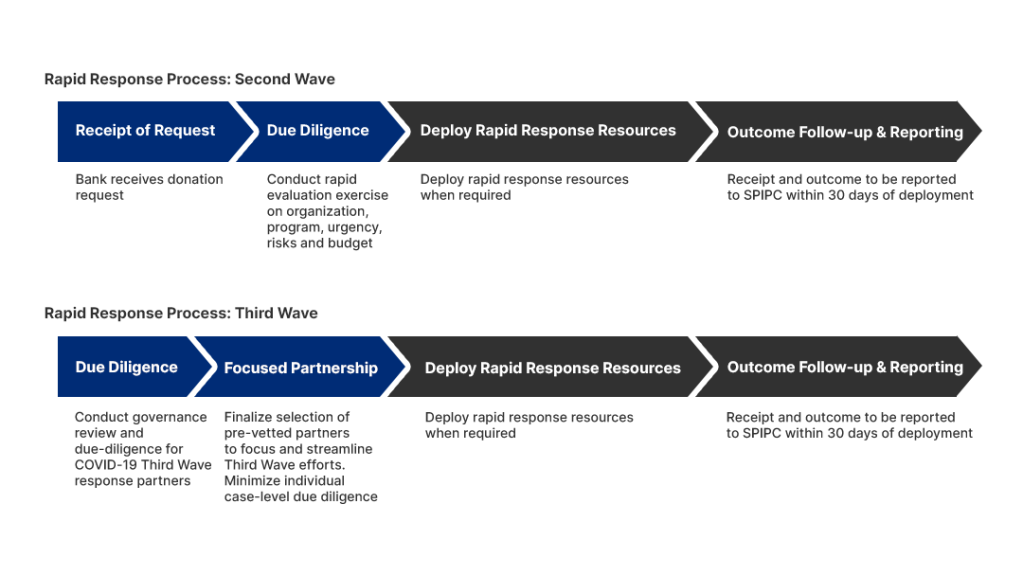 With the newly established framework, SPIPC has made three contributions in response to the COVID-19 Third Wave.
■ In July 2021, the Subcommittee approved 500,000 MMK to provide medical equipment for the COVID-19 positive patients of Heya Ywar Ma Village in Shan State. This is the first donation approved by the SPIP committee in response to COVID-19 crisis since 1st February.
■ In July 2021, SPIP approved $50,000 in response to a fundraising led by the French Myanmar Chamber of Commerce and Industry (French CCI) and American Chamber Of Commerce (AMCHAM) in collaboration with Myanmar Centrefor Responsible Business (MCRB) to provide necessary COVID-19 response items such as oxygen, medicine, and equipment for rural communities. Through this joint effort, a total of $250,000 was raised, 180 oxygen tanks and oxygen regulators were delivered to Medical Action Myanmar (MAM) and Community Partners International Myanmar (CPI) to help the Myanmar population during the Covid-19 third wave.
■ In August 2021, the subcommittee approved a donation to Southern Shan State Philanthropic Brothers Network for 2 ambulances equipped to provide covid care home service in Taunggyi & Aungban in Southern Shan State.
With the rising cases of COVID-19, the SPIP Committee remains dedicated to providing assistance with our select partners so that communities in need receive the necessary care.
The Way Ahead
As an essential financial service provider, the largest employer, and an advocate of corporate citizenship in Myanmar, KBZ Bank will continue to uphold our responsibility to serve the communities we belong to. Since 1994, our journey has always been for Myanmar, by Myanmar, and we remain dedicated to supporting the people of Myanmar through the challenges from the Third Wave of COVID-19. As the SPIP Committee looks ahead to 2022, it will continue to focus on uplifting the livelihoods of the people in Myanmar and creating a lasting impact with trusted partners that have shown a great track record in philanthropy and governance, so that together we can make our communities a better place.