Customers can enjoy the ease and convenience of making payments for tax, utilities and waste disposal with a few simple taps of the KBZPay app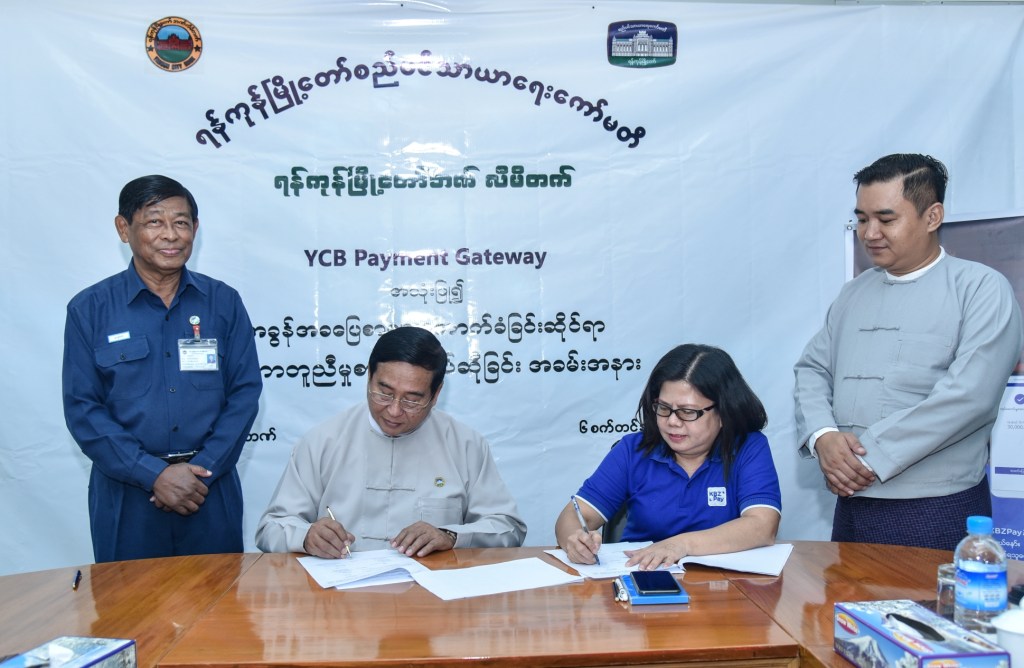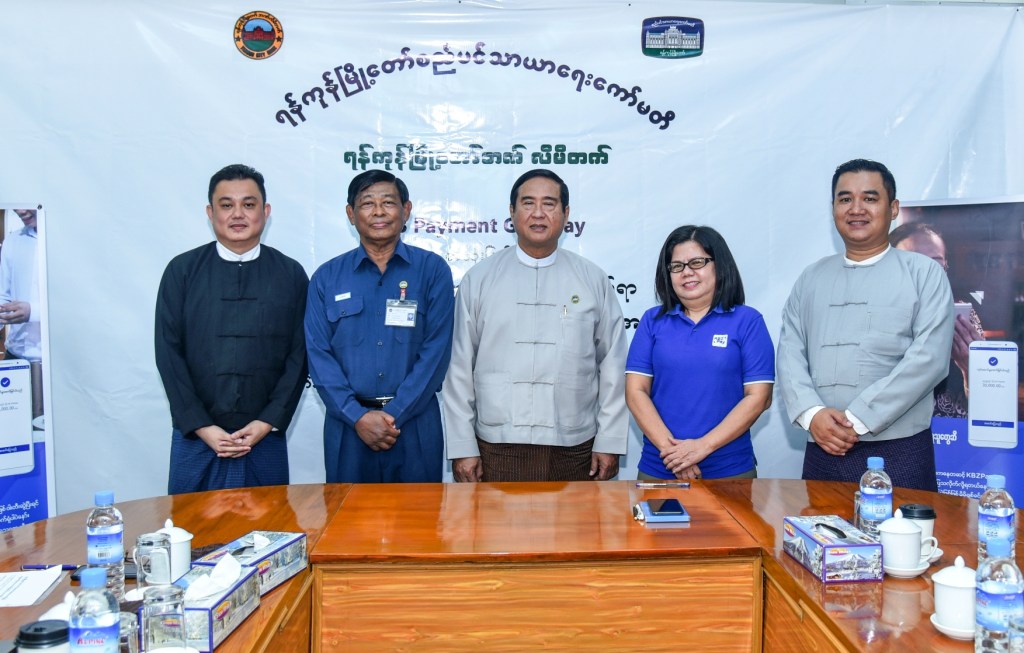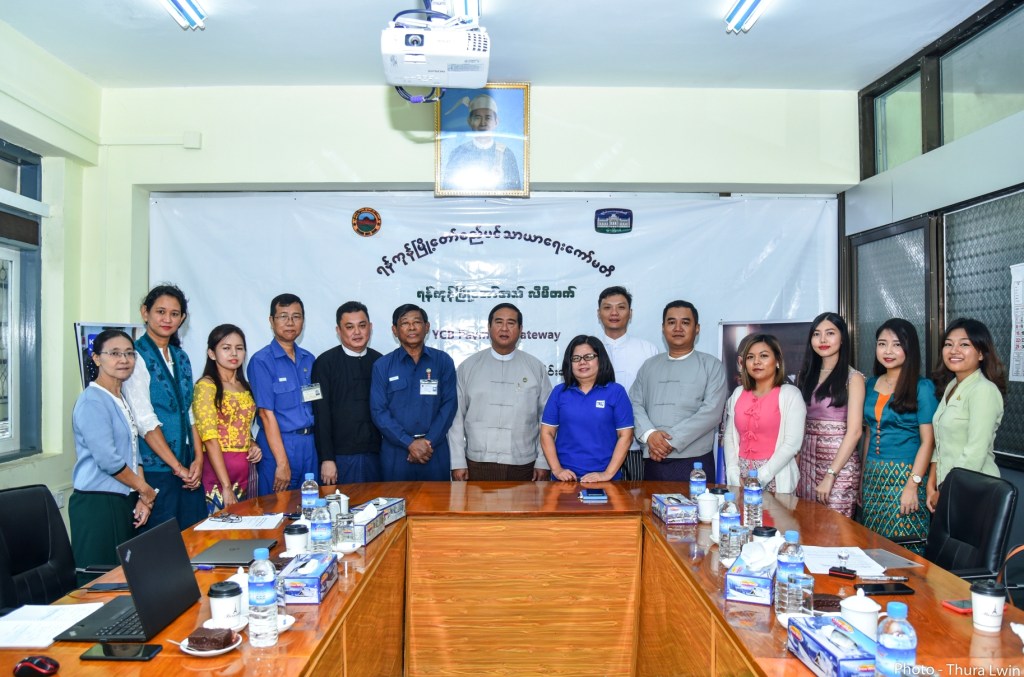 Yangon, Myanmar, 7 September 2019 – KBZPay, the leading mobile wallet in Myanmar, has added a new YCDC Bills function for customers to make various payments to Yangon City Development Committee (YCDC) easily and conveniently. This new function, now available in the latest version of the KBZPay app, was launched following a contract signing with YCDC on 6 September 2019 and with the support of Yangon Regional Government, making it the first mobile wallet in Myanmar to offer such payment services. KBZPay customers in Yangon can now make payments for land rental fees, land tax, goods tax, utilities, kitchen waste as well as commercial and hospital waste using their mobile wallet.
As YCDC bills are a regular payment requirement for landowners, households and companies, KBZPay has now made the payment process faster, smarter and simpler. KBZPay customers can make their bill payments anywhere, any time without having to travel to YCDC offices, therefore helping them to avoid missing payment deadlines. Customers also enjoy enhanced management of finances as they need not have to withdraw cash for these payments, they can view their transaction history which logs all payments made and they can make comparisons of monthly bills.
YCDC's collaboration with KBZPay reflects their recognition of cashless payment as the way forward to streamline operations, improve efficiency and more importantly, to increase the volume of bill payment collections. YCDC manually delivers printed bills and has been challenged with the long-standing issue of bill collections which has in turn affected its funding of city services. By collecting bill payments through KBZPay, YCDC aims to encourage people to pay their bills and to do so promptly. In addition, cashless bill payments collected through KBZPay will support YCDC to reduce issues related to cash management, recording of payments received and disputes.
U Soe Ko Ko, Head of Agent Banking, KBZPay, says, "KBZPay strives to empower people with access to everyday financial services and over the past year, we have seen more customers utilise their mobile wallets for quick and hassle-free bill payments. The new YCDC Bills function gives customers flexibility and the assurance of safe, secure payments for YCDC bills and adds to our QuickPay function which allows payments to over 90 companies, organisations and universities. With billing and payment among YCDC's most frequent and important touchpoints, we are glad to support them with the improvement of the customer experience. We endeavour to continue shaping the future of cashless bill payments in the future!"
The launch of the YCDC Bills function to support YCDC bill payments comes after guidelines were released in June by the Advanced Education Department of the Ministry of Education, advising universities and colleges to accept payments of school fees using KBZPay. In recent months, KBZPay has also expanded the list of companies that payments can be made to including MMBusTicket, Fortune Broadband, BMF Microfinance, and iMyanmarHouse.com.
Signing Up for KBZPay
KBZPay makes purchasing everyday products and managing funds more convenient and secure so people need not physically go to the bank. Anyone with a smartphone using mobile numbers from MPT, Telenor, Ooredoo, and MyTel can register for KBZPay free-of-charge, regardless if the person has a bank account. First, the KBZPay app should be downloaded on Google Play Store, Apple App Store or at www.kbzpay.com.
To access basic KBZPay services, customers will need to create a Level 1 account which takes two minutes. General information such as birth date, NRC and mobile number is required, followed by creation of an account password. In order to access the full suite of KBZPay services such as higher transaction limits and linkage to a KBZ bank account, customers are advised to visit their nearest KBZ Bank branch or agent to verify their NRC and complete the onboarding process to become a Level 2 customer. Customers also have the option to link their KBZ Bank account with the KBZPay app to top up funds in their mobile wallet.
Persons interested to become an authorised KBZPay agent or partner can contact the KBZPay team at +95 99 6996 3211 or [email protected]