Diversity & Inclusion
An inclusive work environment is one where all people feel respected, accepted, supported, and valued, allowing all employees to fully participate in decision-making processes and providing development opportunities within the organisation.
Statement of Inclusion
KBZ Bank is committed to hiring and retaining a diverse workforce and creating an inclusive workplace. We make all aspects of personnel decisions based on qualification, performance, and business needs.
We are proud to be an Equal Opportunity Employer and we do not discriminate based on race, color, religion, gender, gender identity or expression, sexual orientation, national origin, disability status, age, marital status, or any other protected class.
Our Journey
Our D&I journey began as early as 2014 when KBZ Bank first partnered with the Women's Forum for ASEAN meetings in Naypyitaw and Yangon. Realising the impact and importance of gender equity in the business sector, the bank partnered with the Ministry of Social Welfare and Yangon Regional Government to host Women's Week in 2017. The Event hosted many activities including, Women in Business Panel with the State Counsellor, edutainment, panel discussions, empowering sports activities, literacy workshops, and increasing awareness to remove barriers in the workplace. At the end of the weeklong forum, participants in the private sector, including KBZ Bank, pledged to adopt the UN Women – Women's Empowerment Principles.
That same year, KBZ Bank became one of the founding members of BCGE (Business Coalition for Gender Equality). As a founding member, KBZ Bank participated and benefitted from BCGE's services to create  inclusive workplace policies with equal opportunities, supporting local businesses' Workplace Gender Equity (WGE) journey, and certification and assessment on WGE standards. BCGE's guidance and expertise plays a vital role in the bank's Workplace Gender Equality agenda. 
The bank successfully completed a rigorous assessment to measure where we stand in terms of representation, pay equity, effectiveness of policies and practices to ensure equitable career flows as well as inclusiveness of our culture. KBZ Bank became one of the first companies in Myanmar to receive the globally-recognised Economic Dividends for Gender Equality (EDGE) certification in 2018-2020. Due to COVID-19 related challenges, the bank will participate in the recertification process in 2023.
In addition, KBZ Bank joined the Valuable 500, a global CEO community revolutionising disability inclusion through business leadership and opportunity, pledging its commitment to work towards an inclusive workplace.
It was important for the leadership to not only communicate the commitment to embrace diversity but also to practice inclusion across the bank. To understand the diversity of the bank's employees, equity of its internal practices and identify areas of concerns or trends, the bank collaborated with an external consultant and BCGE to conduct an additional assessment which included disability and age diversity in addition to gender. The data collected represent 14,295 employees and include information on age, disability, and gender composition at 5 levels of responsibility and at the board, employee movement, and the retention rate. The data collected was for the reference period of 1st January to 30th September, 2021 and it provided the most updated information to reflect the current structure of the bank.
The data indicated areas of strength as well as areas of improvement. The findings reinforced the need to engage in a dialogue with the staff to recognise the diversity among the colleagues as well as customers and what can be done to be more inclusive in daily operations. We were proud to find that all VCs and function heads indicated they were open to incorporating diversity and inclusive practices in daily operations and practices. D&I work is an on-going process and effort toward an inclusive workplace. An update of initiatives, policies, practices, and activities will be provided regularly.
2021 Snapshot
Gender Composition
Overall, KBZ Bank has a well-balanced gender composition, with women making up 56% and men making up 20% of the workforce. At the Executive Management and Board level however, women represent just 20% of the gender composition. Research studies have shown that companies with a larger share of women on the Board and at higher levels of management increase diversity which in turn enhances productivity, creativity, and innovation. The bank is committed to taking action to increase women's representation at the Board and higher management levels through continued efforts for an inclusive workplace.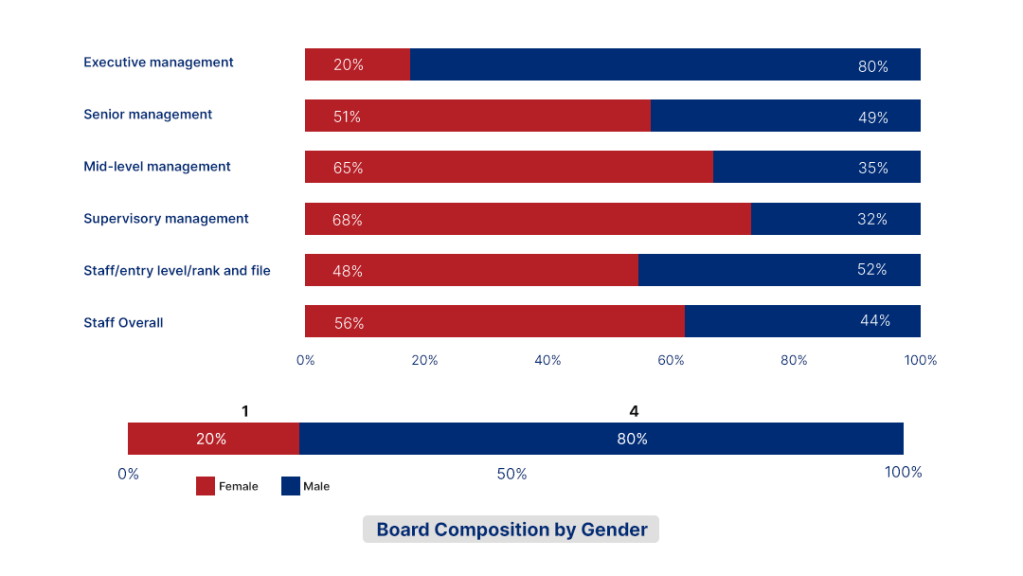 Source: BCGE Gender Report for KBZ Bank, November 2021.
The Workforce in 2021
KBZ Bank is proud to employ people from all generations. Gen Y/Millennials (age 25-40) are the largest group represented at the bank, making up 87% of the workforce. Millennials are the largest generation represented at both the staff/entry level and supervisory level, but are not currently represented in the senior to executive management levels. The potential generational gap is addressed and reconciled by acknowledging the differences in communication styles, culture, world views, and professional experience. KBZ Bank is committed to building leadership and promotion opportunities through our talent pipeline. We are a strong believer that diversity in age and generation creates an opportunity for everyone to learn from each other's background, share experiences, interests, and aspirations.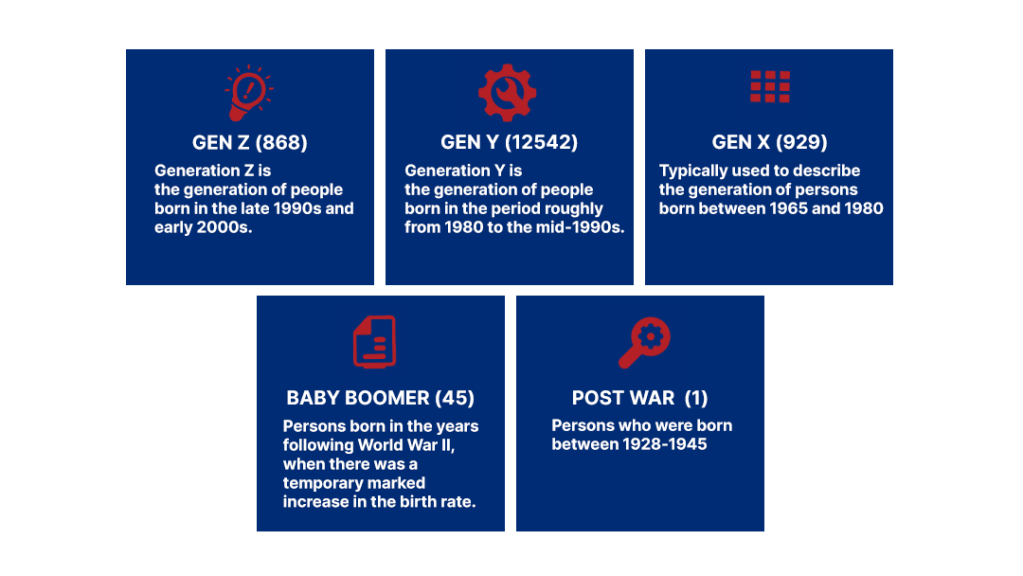 Source: BCGE Gender report for KBZ Bank, November 2021.
Employees with Disabilities
Currently, a total of 12 employees with disabilities are working in the entry level positions. Employees with disabilities make up less than 0.001% of the bank's total employees. 71% of employees with disabilities reported to have physical disability and 29% have hearing impairment. Their initial employment began in 2016/2017 because of the collaboration with Myanmar Federation of Persons with Disabilities (MFPD) to not only create opportunities for persons with disabilities but as a part of fostering an inclusive workplace. The Human Resources department works to ensure that employees with disabilities can participate in all employee development programs and activities.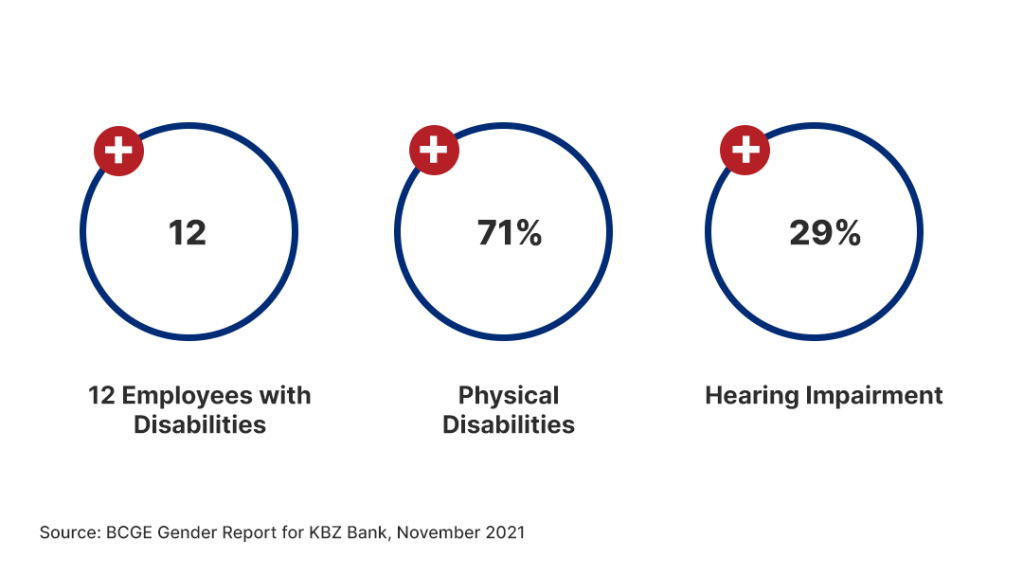 Training and Education
Cultivating a culture that embraces diversity and inclusion requires time and practice. Training and education on Diversity & Inclusion will provide the knowledge to understand how diversity influences what we do. It is not just about checking the box on training, rather it's about helping employees understand the bank's commitment to embrace diversity, building inclusive working spaces, and overcoming many unconscious biases.
Since the start of this initiative, the entire HR team has been trained on Sensitivity in the workplace. The feedback from the HR team indicated that it was effective and many resonated with the key takeaways. As a result of the training, HR is now planning to provide the same training for VCGMs and Function heads, eventually for all staff in the coming months.
Leadership support is evident throughout the organisation especially during these challenging times. The overall gender representation indicates that efforts toward gender equality are underway, and progress is being made. Collaboration with HR to strengthen existing policies to reflect the true essence of D&I is also in place. BCGE's guidance on Workplace Gender Equality and developing a strategic vision board for the bank will have a positive impact toward creating an overall inclusive workplace. As part of the overall D&I plan, the bank will work toward recertifying for Economic Dividends for Gender Equity (EDGE) certification in 2023.
Activities/ Accomplishments
KBZ Bank Participated in the Asian Development Bank (ADB) Gender Forum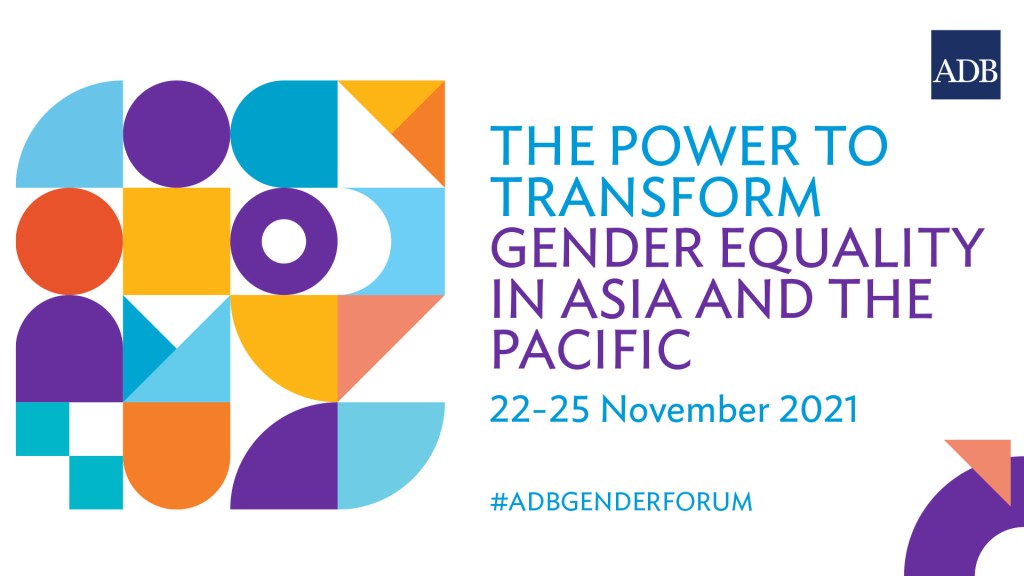 The first-ever Asian Development Bank (ADB) Gender Forum entitled, The Power to Transform: Gender Equality in Asia and the Pacific, was held on 22-25 November 2021 with the goal of informing, influencing, and inspiring action on gender equality.
BCGE's regional program Investing in Women hosted a knowledge lab panel, "Stories from the Frontline: Advancing Workplace Gender Equality in Asia," wherein our founding member, KBZ Bank, participated in the forum to represent Myanmar.
The session focused on workplace gender equality (WGE) initiatives that promote women's leadership and gender diversity, ending sexual harassment in the workplace, and flexible work arrangements in four companies from Indonesia, Myanmar, Vietnam, and the Philippines.
Key takeaways from the knowledge lab include: WGE exists when everyone, regardless of gender, can equally access and enjoy resources, opportunities and benefits to progress at all levels; a company committed to WGE holds itself accountable for implementing mechanisms that eliminate both direct and indirect discrimination; drivers of WGE include leadership from top management and human resources management.
The forum facilitated dialogue and information sharing between national, regional, and global partners and stakeholders to discuss and explore how concrete policies and projects can better support the achievement of gender equality and more resilient communities.
Source: BCGE Newsletter, Issue #10, Jan 2022.
Cultural Sensitivity: A Workplace for All Training for KBZ Bank
BCGE facilitated two sessions of "Cultural Sensitivity: A Workplace for All" that KBZ Bank took to fulfil their long-term WGEDI vision of fostering and embracing an inclusive workplace.
The facilitation aimed to bring awareness of individual differences and perceptions and how that relates to the workplace by understanding the stereotype mindsets to be inclusive where all voices, characteristics, and actions are heard and valued.
BCGE conducted the training for the non-managerial level on November 15-16, 2021, and the training for the managerial level on November 27-28, 2021.
BCGE provided a report at the end of the training for understanding the learning points, discussions, progress and next step of advancement of the organisation and the participants.
BCGE will do a follow-up evaluation session to measure the participants' progress on their signed-off commitments after two months of the training commencement.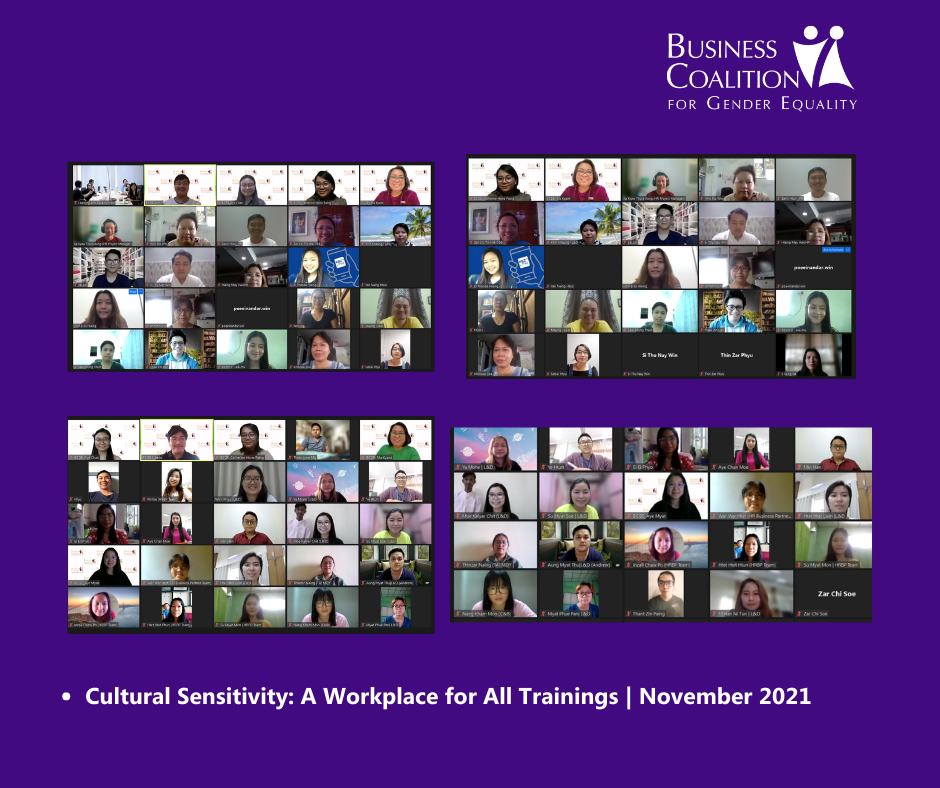 Source: BCGE Newsletter, Issue #10, Jan 20, 2022.
Policies
KBZ Bank is committed to ensuring an inclusive workplace. A number of our policies and procedures support our commitment to operating ethically and responsibly not only as a business but also at an individual level. We will ensure that all of our employees are notified of the respective policies regarding anti-harassment and anti-discrimination, diversity & inclusion, human rights, grievance procedures and mechanisms are put in place to protect the vulnerable population.